DR DERMIS Hydraceutic Double Power Vitamin Concentrate is the No.1 best-seller hydration serum. This serum is lightweight with a non-greasy texture, allowing it to penetrate your skin effectively. Dermatologically tested and suitable for all skin types.
Serums, in general, are lightweight and contain a high concentration of active ingredients. Their smaller molecular structure allows them to absorb effectively into the skin's dermis layer. In contrast, facial creams and moisturizers have larger molecules that mainly work to retain moisture on the outer epidermis layer of the skin.
Due to their fast and deep absorption into the skin, serums are superior in attracting and retaining moisture compared to facial creams or moisturizers. The Dr. Dermis Hydraceutic Double Power Vitamin Concentrate is enriched with Niacinamide B3 and Niacinamide B5, providing thorough protection against surface aggressors such as UV rays, outside pollutants, physical stress, etc. This powerful serum deeply hydrates the skin and enhances skin regeneration, leaving your skin feeling softer with a smoother texture.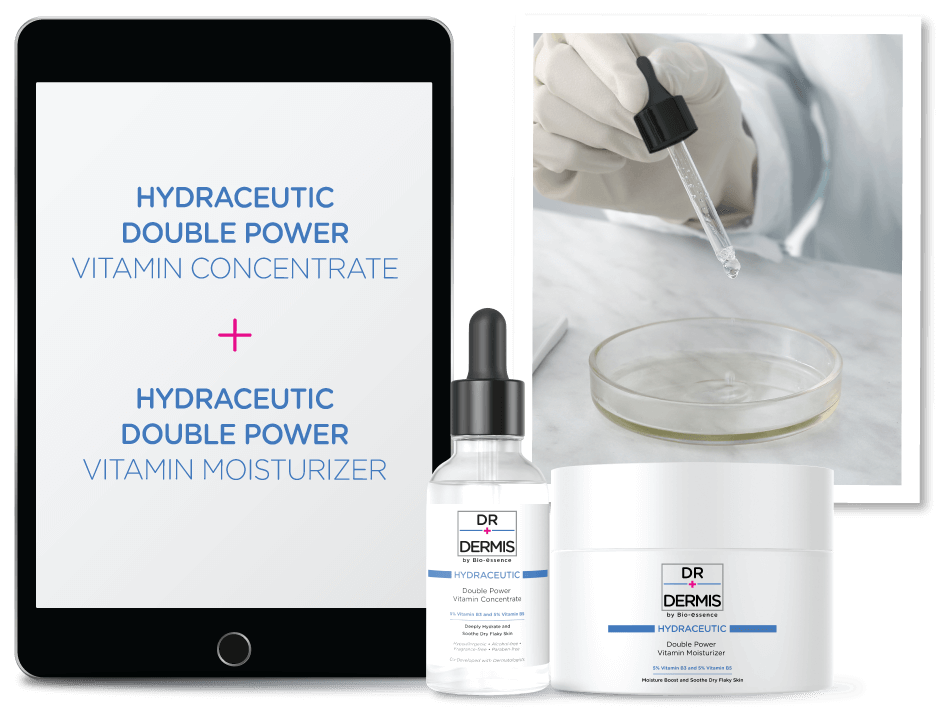 DR DERMIS Hydraceutic Double Power Vitamin Concentrate is Derma-Mimic Complex enhanced to accelerate skin repairs and regeneration.
CLINICALLY PROVEN RESULTS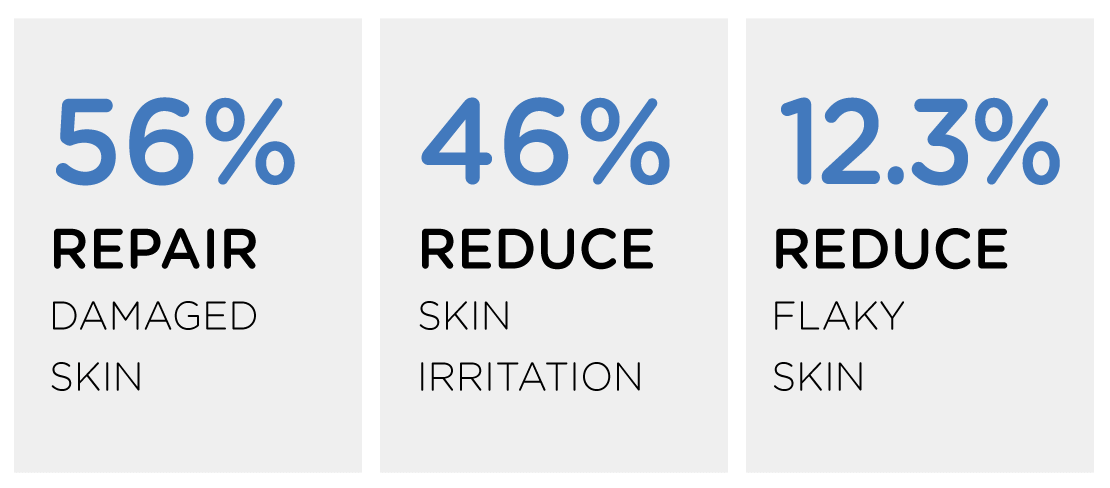 *these efficacy and all other desired results are individually dependent.
For better results, use the DR DERMIS Hydraceutic Double Power Vitamin Concentrate together with DR DERMIS Hydraceutic Double Power Vitamin Moisturizer 40g in your skincare routine as both products complement each other, with the serum offering targeted benefits and the moisturizer providing overall hydration and protection.
COMMON SKIN CONCERNS
BY ASIAN SKIN
DR DERMIS is Co-Developed with Dermatologists and is formulated through vigorous development for Asian skin.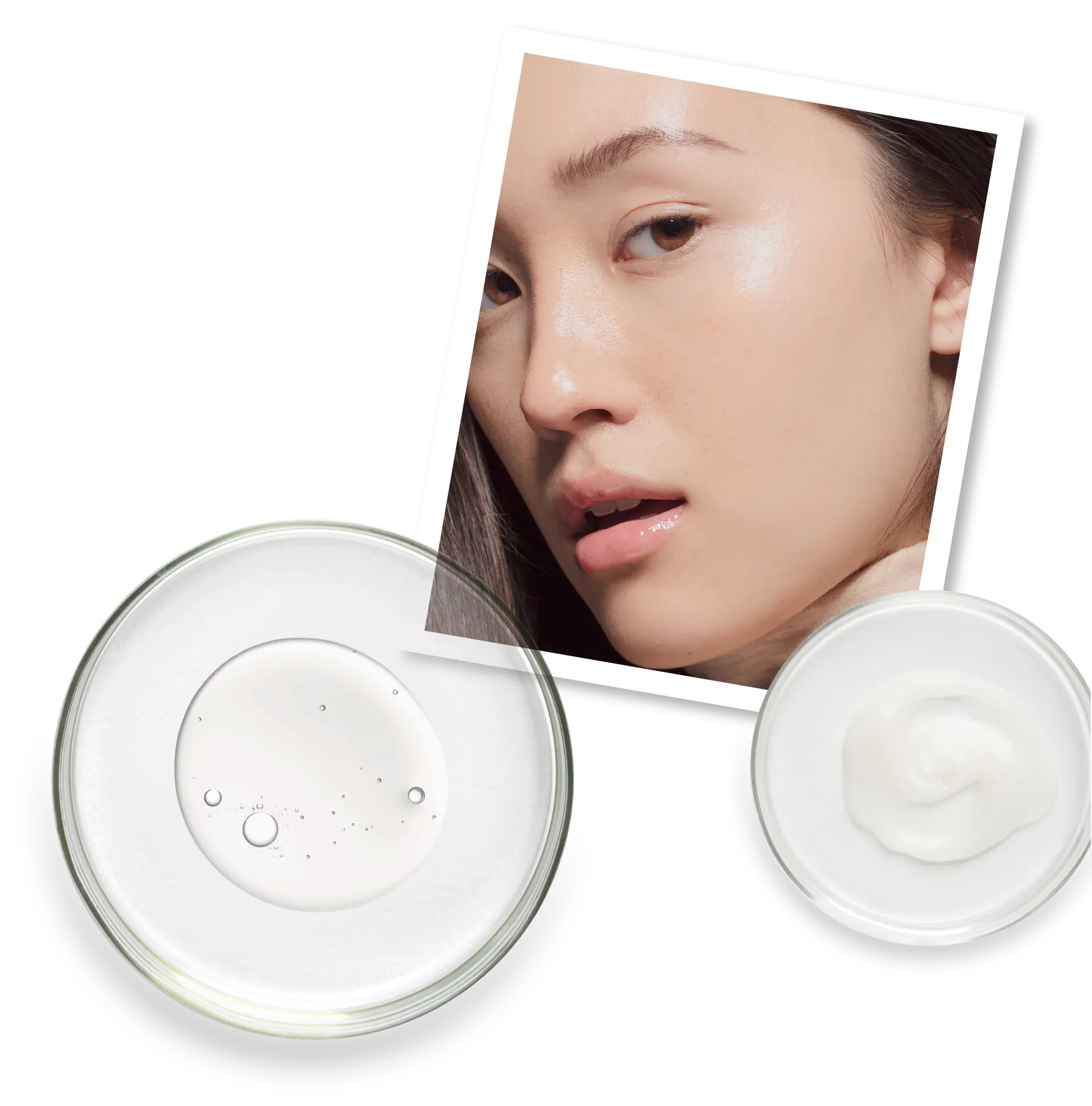 Asian skin, like any other skin type, can have its unique set of concerns due to various factors such as genetics, environmental conditions, and lifestyle. Here are some of the most common skin concerns for Asian skin:
Oily Skin: Many Asians have a tendency towards oily skin due to higher sebum production. Excessive oiliness can lead to enlarged pores and an increased risk of acne.
Dehydrated skin: Despite having oily skin, Asian skin can still be dehydrated, especially if the skin's natural moisture barrier is compromised by environmental factors or harsh skincare products.
Uneven Skin Tone: Uneven skin tone is common, especially in cases of hyperpigmentation or sun damage, leading to an uneven distribution of melanin.
Acne and acne scars: Acne can lead to post-inflammatory hyperpigmentation or scarring, especially if not treated properly. The combination of excess sebum production, bacteria, and clogged pores can contribute to acne breakouts.
It's important to note that not all Asians have the same skin concerns, as skin types can vary widely among individuals. Understanding one's specific skin type and concerns is essential for choosing appropriate skincare products and treatments. Consulting with a dermatologist or skincare professional can help create a personalized skincare routine tailored to address individual needs and concerns effectively.
Dr Dermis's Derma Mimic Complex™ is an unprecedented formulation co-developed with over 200 research scientists and dermatologists, specifically tailored for Asian skin.
Dr Dermis ABC Routine is a one size fits all dermatologists-certified regime that gives your skin essential vitamins in just 3 simple steps!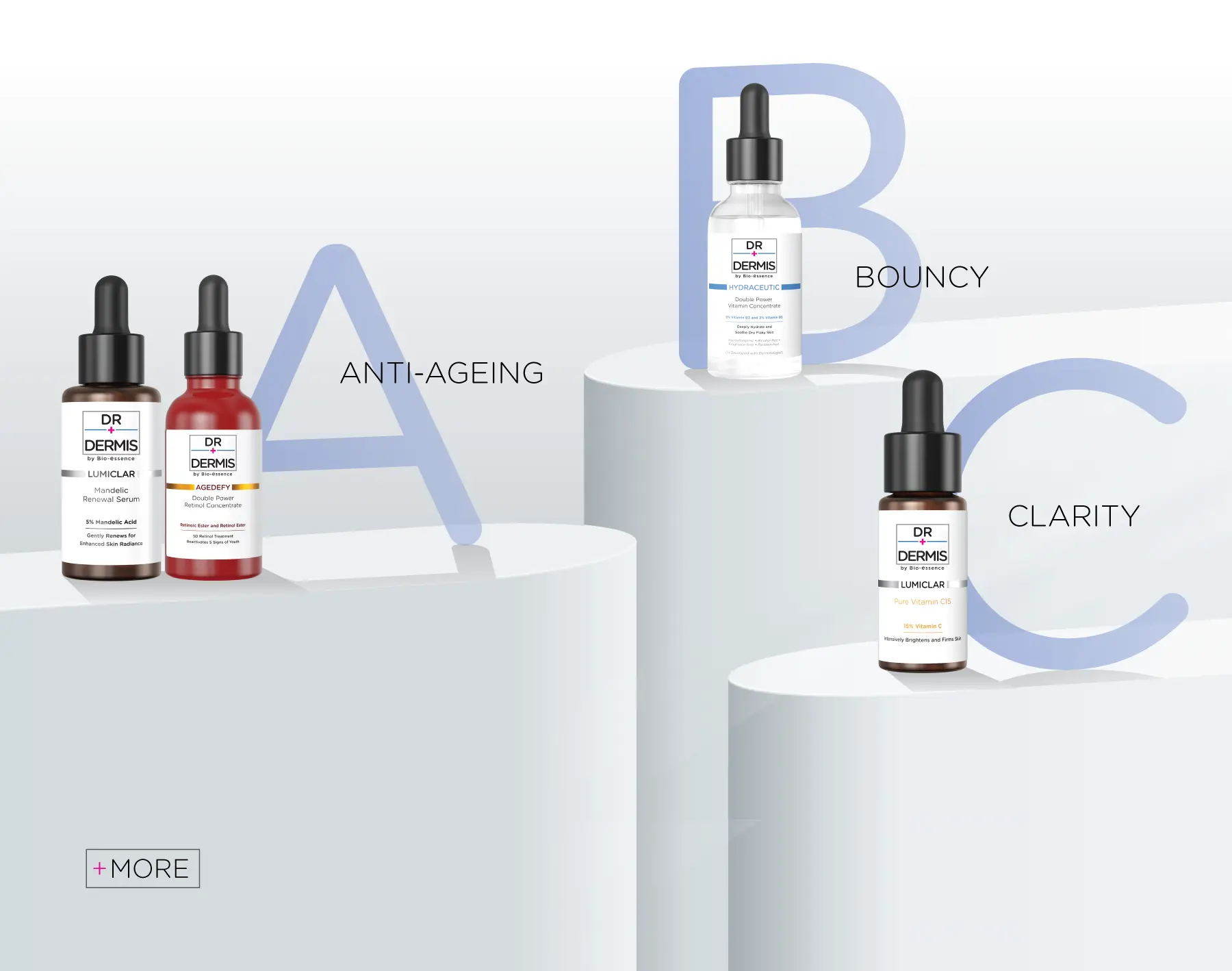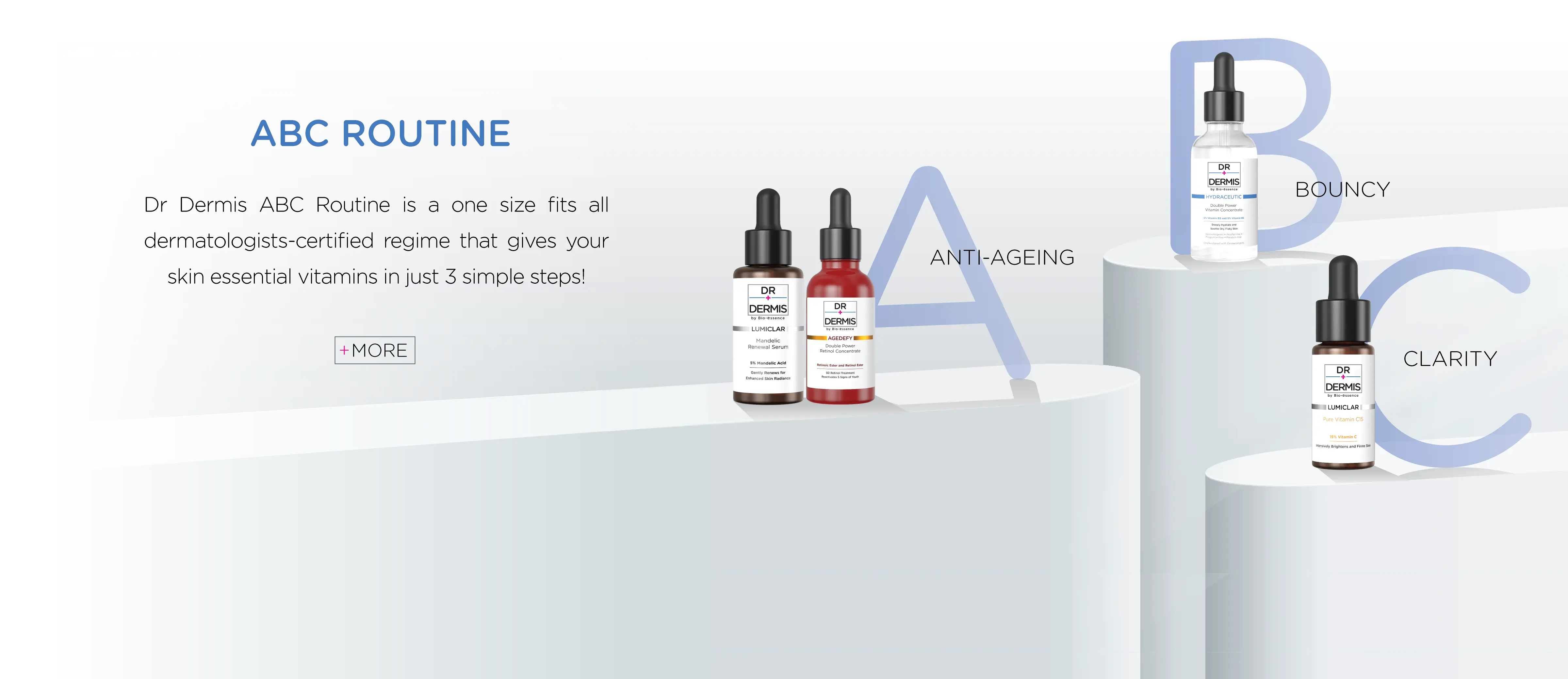 100% VISIBLY BRIGHTEN
& FIRMS SKIN*
Where Science Meets Beauty
Dr Dermis Derma Serum Expert